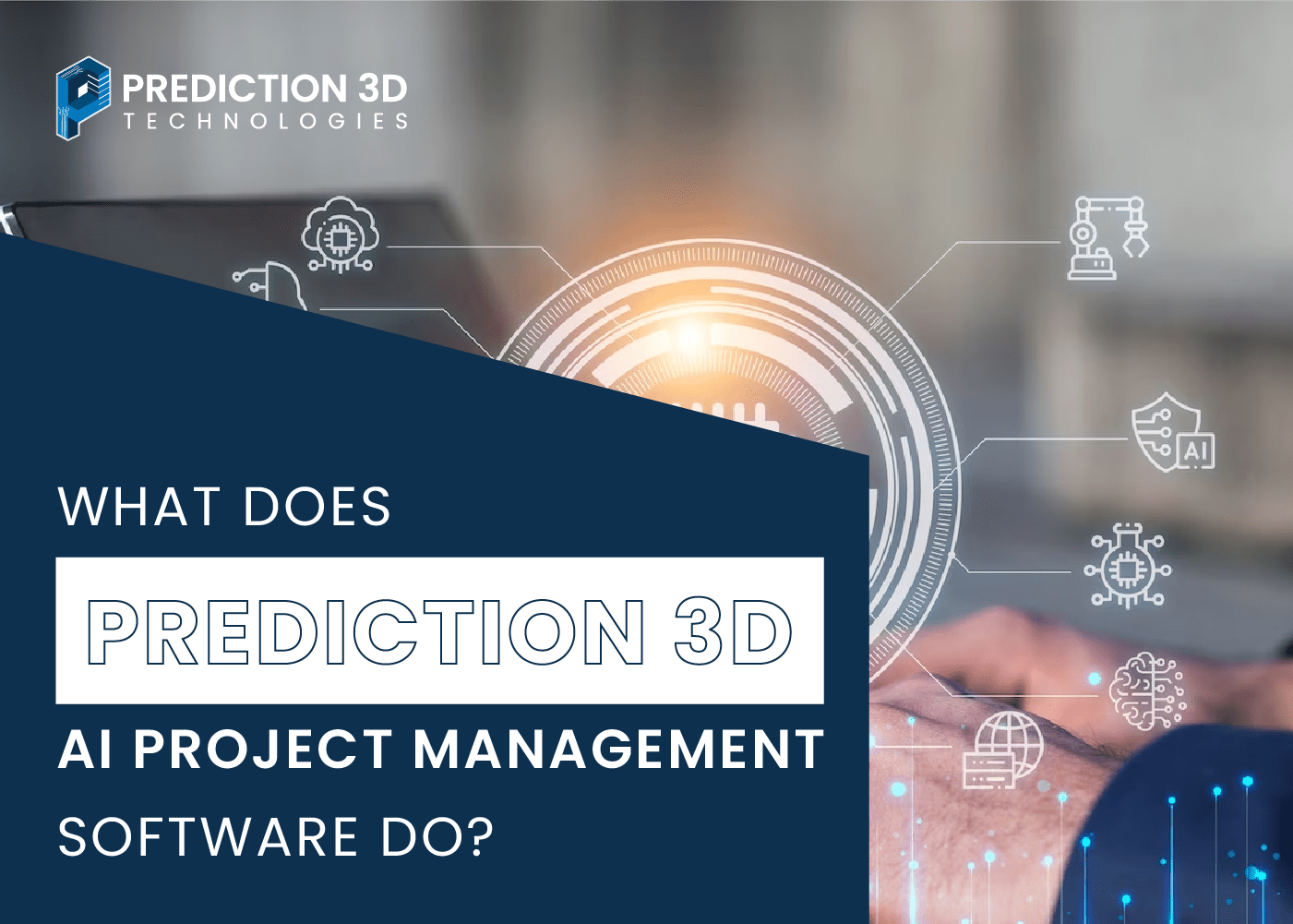 Prediction 3D (P3D) is a technology company (based in Hattiesburg, MS, USA) offering project management software solutions powered by artificial intelligence, or AI. The P3D does not require additional CAD files to work and can be used stand alone, or integrated into other project management applications.
P3D is very simple to use and does not require hours or days of training to get results, making it very time efficient to use. P3D uses the power of artificial intelligence to significantly reduce a project management workload, freeing up human project managers for other tasks.
Here we will take an overview of P3D and the project management solutions they offer. We will describe how P3D is different from other project management software platforms, and how that improves the user experience.
How Does P3D AI Powered Project Management Work?
The P3D project management solutions are fine tuned to your company's directives and goals, making them very cost-effective. To use P3D to create a take-off estimate and/or schedule, just upload your BIM files and P3D does the rest.
Scheduling and Take-Off Estimates
Schedules are automatically adapted to meet the project requirements based on real time events. Re-calculating take-offs is also done autonomously (per your commands), letting you apply your talents elsewhere.
Visual Editing
As previously mentioned, P3D is very easy to operate, even for a first time user. P3D provides visual editing to make the process very simple. No complicated user commands are required to operate the P3D interface, so no intense training is required either.
You simply upload your construction plan file (BIM) and configure P3D with the user-friendly interface.
Construction Costs By Zip Code
We all know material and delivery costs vary from market to market. The P3D AI engine will automatically update price fluctuations and offer multiple solutions for cost saving opportunities.
P3D can also analyze pricing trends from your historical data and help you forecast critical material and machinery deliveries. Using AI, Prediction 3D will monitor your project costs minute by minute and alert you when potential issues arise.
No Additional CAD Required
Many project management systems require other software, like CAD files, to operate as designed. P3D does not require a separate instance of CAD and can operate as a stand alone platform, or be integrated into other project management systems that accept spreadsheets.
Advance Notice Of Cost Overruns
When managing multiple projects, sometimes small cost overruns can go unnoticed. P3D can be configured (no coding required) to anticipate cost overruns before they occur, giving you time to arrange for a soft landing.
Value Proposition Of Prediction 3D (P3D)
Increase Profitability
P3D provides many of the same functions as a team of project managers, but in a fraction of the time. In today's volatile construction industry, the ability to be nimble can mean the difference between a black or red balance sheet.
Reduce Labor Costs
P3D can completely re-arrange a project schedule in seconds, instead of the days, weeks, or months required by a team of project managers. The P3D solution provides a significant return on investment by reducing labor costs. The more you use P3D, the more cost-effective it becomes.
Avoid Costly Delays
Instead of convening every available management resource to address an unpredictable event, P3d simply redesigns the schedule and/or take-off estimate in seconds. P3D can even use historical data and current market conditions to forecast potential delays far in advance.
Increase Accuracy and Reduce Mistakes
We're all human, but the P3D solution doesn't hold that against us. P3D will automatically analyze and compare data you supply. If a cost figure suddenly changes due to human input error, P3D will take note and alert you.
P3D can compare every element of a cost take off across the entire project and look for errors. By identifying errors as they occur, the P3D solution helps keep small problems small.
How Can I Get Free Information About P3D Project Management Solutions?
If you're ready to see what AI can do for your project management efforts, just click here to schedule a demonstration. The AI experts at Prediction 3D are ready to help you get started, answer your questions, and help identify what AI can do for you.