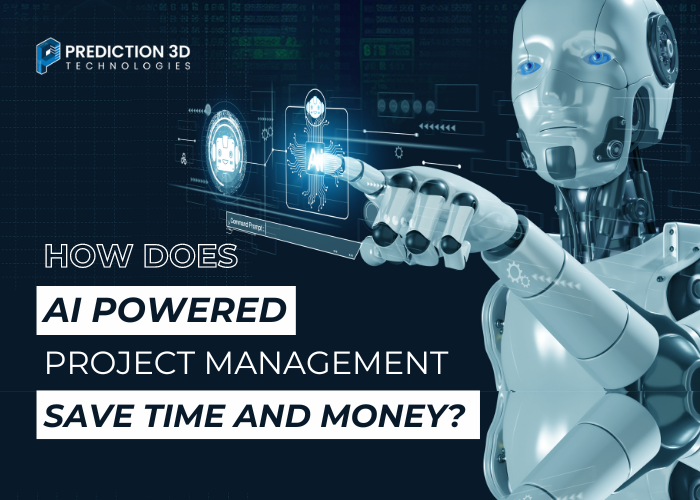 Artificial intelligence (AI) has emerged as an incredibly useful tool for managing virtually any project. Project managers, designers, estimators, and other professionals can use the power of AI to perform huge calculations, provide reports, and check for accuracy.
AI essentially does the same things any computer does, but on a larger scale. Machine learning is just one feature AI can provide. AI can take a deep dive into analytics and provide options and solutions to unidentified problems.
Project managers in the construction, transportation, and industrial fields can benefit immensely from using AI. For example, you can use AI to automatically adjust a price schedule during the pre-planning phase of a project. AI can detect the issue, alert you, and provide multiple solutions before you discover the problem on your own.

Here we will discuss how AI can reduce your workload, improve efficiency, and reduce errors.
How Does AI Powered Project Management Work?
Perhaps the easiest way to illustrate how using AI might save your company both time and money is with an example. We will describe a typical process that begins the moment a serious problem occurs:
Crane Breaks On a Jobsite

Let's say your company has two rented cranes on a jobsite. Both have been installed, but one fails unexpectedly. The issue is what to do with the materials on the way and the labor force set to arrive.

Job Foreman Starts Making Calls to the Office

Immediately the foreman alerts the office that the crane has broken, so they need to hold up material deliveries and re-allocate the crew. The information is eventually relayed to the boss, who now must demonstrate his management skills.

Boss Gets Involved

Once the issue becomes the boss's problem, they start calling suppliers and delivery firms in an attempt to redirect, reschedule, or cancel shipments. The real issue is that canceling the shipment might mean refusing delivery of hard-to-get materials, labor, and tools.

All Hands On Deck

After the damage has been accessed, the boss calls a meeting of every manager to form a task force. The goal is to make as many changes as needed as efficiently as possible before the end of the workday.

Deadlines Approaching

As deadlines approach and the stress begins to build, everyone involved becomes more stressed and their other work begins to suffer. Resources are allocated to solve a large problem that could have been avoided if better strategy had been employed in the pre-planning phase.

Projected Completed, But Late and Unprofitably

Unfortunately, the project loses significant profit every time the emergency handle is pulled. By the time the project is completed and the profits calculated, the project loses money.
How Using AI Powered Project Planning Helps Avoid Expensive Problems
If we take the same situation but employ an AI powered management solution, like the one offered by Prediction 3D (P3D) , we can see another possible outcome:
Crane Breaks On a Jobsite, But You Planned Ahead

The same problem occurs, but P3D identified early in the planning phase that using older cranes could result in down time. As a result, a backup plan was initiated.

Job Foreman Doesn't Need to Call to the Office

Since the replacement had been planned for several weeks, the project manager was able to easily move materials and resources around to other jobs without paying a premium.

Boss Gets Involved Because Using AI Is Fun

Since AI can be used to plan any number of projects, the project manager has fun asking AI impossible questions just to see the answer. Because the project is running so smoothly, the boss finds himself with little to do.

All Hands Are Doing Something Else

The power of AI means the system can perform calculations and simulations while the project managers discuss last night's game scores. AI can automatically restructure a schedule in seconds when even the smallest change occurs, like a price change.

Deadlines Approaching, But You're Ahead Of Schedule

Because the AI solution noticed a price drop a couple of months ago, you made the decision to order the materials in advance. This gave you negotiating power, so you got the manufacturer to pay for the shipping. Not only did your project have materials when other companies didn't, you paid a lower price.

Projected Completed Ahead Of Schedule and Under Budget

Because you suggested to your boss that your company should look closely into AI powered project management, you get a huge quarterly bonus, along with your team. Your boss couldn't be prouder, because they listened to your advice and invested in the tool.
Information Is Power
Artificial intelligence is an incredibly useful tool for pre-planning and estimating any project. The solutions from Prediction 3D are reliable, flexible, and adaptable to a wide range of project planning applications. To learn more, click here for more information